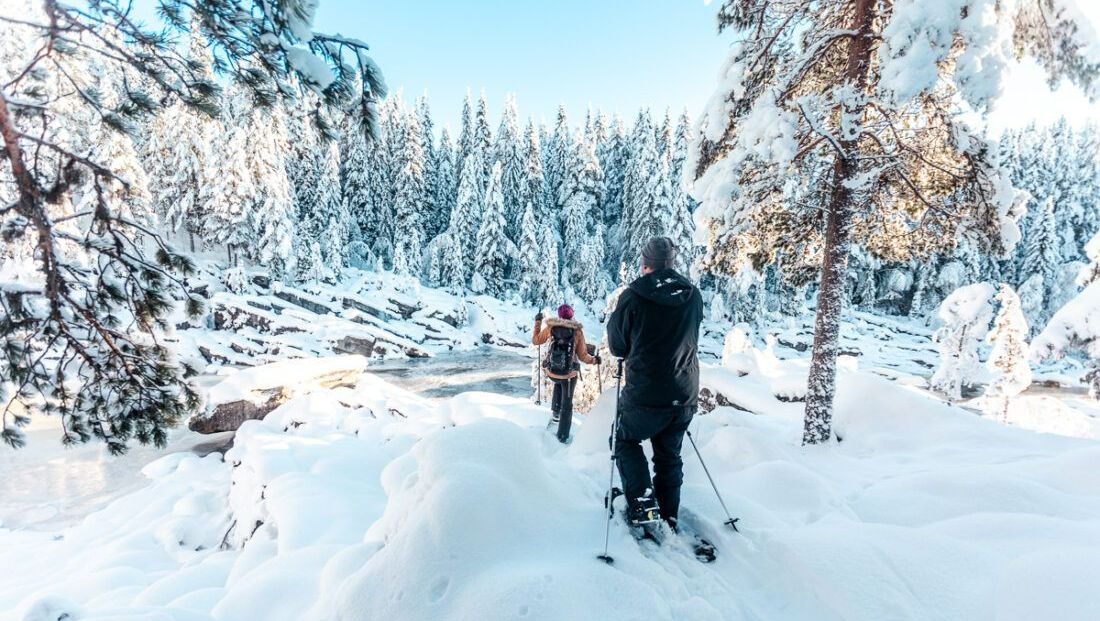 17/01/2023
Snow shoes
Rent a pair of snowshoes and hike our beautiful snow-clad forests during winter season
Rent snowshoes at Groven
Snowshoes are great for exploring, and makes trekking managable, both in the snow clad forests and mountainous terrain. No special skills or knowledge required - just strap the snowshoes to your regular winter hiking boots, and you'll soon be on your way.
Please refer to our staff for further informations.
Pricing: 200 NOK/ pair of snowshoes w/adjustable poles
Ask us for hiking suggestions and directions!
Practical info:
Keep in mind that hiking is supposed to be fun. Plan ahead and remember that hiking in snow shoes is a lot more taxing than skiing - so keep the route short and accomplishable.
Make it fun! Bring a lunch, a snack or something to make the hike memorable. Success is measured in happiness, not in mileage covered.
You should always carry ski poles .
Wear gaiters
How to walk with snow shoes?
Uphill and steep inclines
Inclines can prove to be quite demanding. Avoid the steepest parts, and walk in a zig-zag line to make the ascend more manageable.
Safety in mind. Avoid areas prone to avalanches. Refer to our reception for updates on avalanche dangers in the region if you plan to summit a mountain or hike steep areas.
One of the classic rules of skiing and hiking in Norway is to always tell someone that you are heading out. Another classic rule is that "there's no shame in going back", meaning that you should always stay cautious and return home instead of keep pushing.
What should I wear?
Clothing needs to keep you warm, but not sweltering.
Midlayers for both upper and lower body.
Wool clothes is a must! Wool has natural thermic abilities, and will keep you warm even when wet from rain, snow or ice.
Wool socks. Keep your feet warm!
Winter boots / hiking boots. Snow shoes are strapped to your boots, and does not provide any shelter from snow, ice or cold weather. In order to stay warm we would recommend using winter boots and winter socks.
Windproof clothing (ie. jacket and trousers)
Beanie, bobble hat or similar head garment. Gloves or mittens.
Gaiters prevents water and snow from entering your winter boots.
Recommended equipment
Spare sweater (wool recomended).
Spare midlayers and socks. Change clothes when having longer breaks, to mitigate the effect of cold sweaty clothing.
Spare mittens / gloves
Spare drinks (water, hot drinks etc).
Food and snacks. (We highly recommend trying the Norwegian Kvikklunsj-chocolate, which is a traditional hiking snack. Available from most shops and service stations.
Seat pad. Keep your buttocks warm and dry during breaks.
Headlamp, if an incident occurs and you are unable to return within sunset.
Matches or firestarter equipment are always useful to bring in case you are immobile over a longer timespan. Sports tape or bandaging in case of injury.
Map and compass are recommended for longer hikes.
Avalanche beacon is highly recommended if you are persistent on hiking where you really shouldn't - i.e. avalanche prone areas.
Good company and a great vibe!
5 Reasons: Why we love snow shoes
Nothing screams freedom like snow shoes.
You'll have a chance to get up close and personal with local wildlife.
The bar for getting comfortable in snow shoes is very low. If you are able to walk - you are able to use snow shoes.
One of the most versatile and enganging ways of hiking and experiencing nature.
A great way to combine strength, cardio and nature.
Snow shoes are easy to use, whenever and wherever! 
Enjoy your hike, and stay safe!
Feed