Check in:
From 2 PM in off-season.
From 3 PM in high season.
Check-out cabins:
By 12 noon in off-season.
By 11 AM in high season.
Check out campers, caravans, and tents:
By 12 PM.
Do you need to check in after 11 PM? Contact our reception at +47 909 56 484.
Cabins
We have ten year-round cabins with room for up to five guests, including living room with fireplace, kitchen and bathroom.
During summer, we have ten simple cabins with room for two till five guests.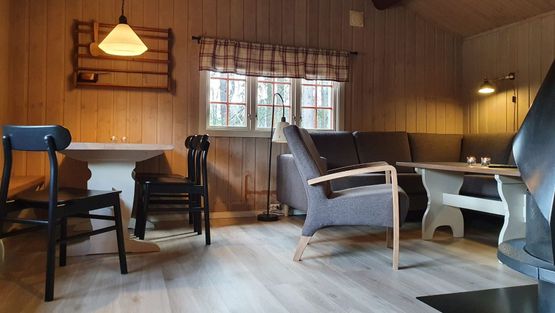 Large cabin
We offer ten newly renovated year-round cabins with kitchen and bathroom. The cabins have two bedrooms – one with a single bunk bed and one with a family bunk bed (the lower bunk is 120 cm wide).
The cabins also include a living room with a corner sofa, a 43" TV and a fireplace, kitchen with running water, stove, refrigerator and dining table, a small bathroom with shower and toilet, as well as a storage room with freezer, firewood and cleaning supplies
Note!
Animals are allowed, but not in the beds or on other furniture.
You are not allowed to use a sleeping bag in our cabins, only clean bed sheets.


We offer:
We offer (Large cabin)
Number of beds: Five, distributed over two bedrooms.

Kitchen with stove, refrigerator, dishwasher, coffeemaker, and kettle.

Living room with a comfortable corner sofa, fireplace, and TV.

Bathroom with toilet and shower.

Outdoor furniture.

Parking by the cabin.

Free Wi-Fi.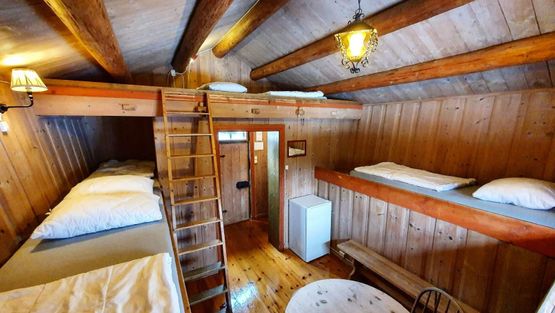 Small cabin
Our smaller cabins are a bit simpler than our larger ones. They have one room with a small kitchen equipped with a hotplate and refrigerator. The sanitary facilities must be used as kitchen and bathroom, and the setup of the bunk beds may vary between the cabins. The cabins are also equipped with duvets and pillows and are close to the playground and swimming pond.
Camping
We have 32 spots for campers, including your own lawn, modern sanitary facilities, and standalone dump station. We also have about 50 spots for caravans and tents.
We offer:
We offer (Camping)
Free Wi-Fi.

Slot machine in shower and laundry room.

Posts for drinking water.

Handicap bathroom.

Laundry room and drying room.

Kitchen.

Living room.

Dump station for camping toilets.

Good opportunities for hiking.

Open reception with food service during summer.

Free boat rental and fishing.

Close to city centre.

Two sanitary facilities.